So you know what a budget is, and you know why the benefits a budget provides blows away any reasons you might have to avoid creating a budget. The only thing you need to do now is actually sit down and create the budget. Making a budget sounds complicated, but it's really not. There are a lot of different budgeting methods to consider, however most of them boil down three easy steps.
The easiest of the three steps is to create a list of your monthly income. For most of us, this consists of looking at last month's paycheck stubs. If you prefer a more 21st century approach, go to your online banking account and take a look at all the deposits in the last month that came from your employer.
If you receive regular income from other sources, such as investments, make sure to include those too. The goal here is to list only those sources of income you know will be coming in on a monthly basis.
Create a List of all Monthly Expenses
Once you've listed all your income, you're ready to get to start with something a bit more difficult—listing your expenses.
Start by listing what you spend on your fixed expenses. This includes:
Rent or mortgage payment
Internet bills
Insurance payments
Other loan payments
Expenses like these are easy to track because you pay the same amount each month.
Once you're done with that, calculate what you'll want to spend on your variable necessary expenses, such as:
Groceries
Gasoline
Utility bills for electricity, heat and water
Cell phone bills
If you're not sure how much you usually spend on these categories, come up with an estimate. The easiest way to do this is to trust your intuition. You probably have some idea what you're spending, so write down an amount that feels right. You can go back and change it after you've started tracking where your money goes.
For many of these expenses, though, you can look at your last two or three bills to come up with a ballpark figure of how much you're spending. If your bills only vary by a few dollars each month, budget for the largest bill you have so you don't exceed your budget.
Once you're done with your necessary expenses, it's time to move on to discretionary expenses. This is the money you spend on items like:
Clothes
Entertainment
Eating out
Morning coffee
If you're having trouble coming up with all your discretionary expenses, you can make the process easier by accessing your bank account online and looking at your spending for the past two or three months. At this stage, you might be tempted not to list some items—or at least put down an idealized version of what you'd like to spend in your budget.
As much as you may want to, avoid this temptation. The important thing at this point is to be honest with yourself about what you've spent in the past. You can always cut back in the future if you want.
---
When making a budget, be honest with yourself about what you've spent in the past. You can always make a different choice in the future.
---
Also, you are forbidden from feeling bad if you've spent too much money in one category or another. Unless you're seriously in debt, you shouldn't beat yourself up over what you've bought in the past, especially if you've enjoyed it. Instead, try to look at it in a more positive light—you're reducing the amount of money you spend on things that only give you a fleeting sense of enjoyment and spending more money on things that will really make you feel good about yourself.
Subtract Your Expenses From Your Income
Once you have your income and expenses for each month listed, subtract your expenses from your income and see what you have left over.
If your expenses are greater than your income, don't panic. Look over your expenses and look for ways to reduce your spending, whether that means adjusting your day-to-day spending habits or renegotiating your monthly bills. Your main goal at this point is to make sure you don't need to borrow money to make ends meet, especially if you're bridging the gap with a credit card or worse, a Payday loan.
---
---
What to do With Leftover Money
If you do have money left over, great! Even if you don't have a lot of money left, you're still on solid financial footing. You can't rest just yet, though. In order to really get the most out of your money, you need to figure out what to do with that remainder.
This is called "Zero-Based Budgeting," and what it means is that at the end of each month, your income minus your expenses equals zero. In other words, every dollar you bring in should have a purpose.
One of the best ways you can use the extra money in your budget is by dedicating it to your savings account. If you don't already have anything in your budget dedicated to savings, the leftover money you have is a great place to start. Even if you do have some money budgeted toward savings, you can use the leftover money to achieve your savings goals even faster and then start investing for your financial goals.
To be fair, the idea of having all the money in your checking account allocated can make some people uncomfortable. What if you exceed your budget in one area and have to spend an extra $10 or $20?
The best way to alleviate these concerns is by first padding out your checking account with around $100. This should help make sure that if you do go over your budget in one area, you won't have to dip into your savings. You will, however, have to make sure to resist the temptation of spending that money instead of letting it rest in your checking account.
---
Special Situations
While the previous section should have provided you with all the information you need to create a budget most of the time, some special situations deserve their own sections.
If you have an irregular income
Most people have the benefit of getting a regular paycheck. However, a growing number of people are earning a living in the "gig economy," where they are paid by the project instead of by the hour or having a salary. This means that, while they may be making a good living, they probably won't know exactly what they're going to make that month.
If you fall into this category, you need a budget even more than other people do. You need to know that what you bring in each month will cover your necessary expenses, and if you have a particularly good month, you need to be able to set aside money to cover your expenses during the lean months.
The first thing you need to do is go through your expenses and make sure you know which ones are truly necessary. Make sure you know what your most basic needs are, versus those bills that might be a bit more forgiving if you don't have a lot of money left at the end of the month. This way, you know that, while you might not be able to make a credit card payment, you at least know that you'll be able to pay your mortgage and grocery bills.
Now that you know what you absolutely need, take a look at your income and find out the least amount of money you've received in one month. This is going to be your starting point. That amount has to cover all your monthly expenses, and if it doesn't you'll need to start cutting costs until it does.
This approach will require you to sacrifice in order to make everything fit. However, the financial security will be worth it. This also puts you in the best position to take advantage of those times when you have a surplus of future income.
If you really want to manage your money effectively with an irregular income, here's a good option: Make a separate checking account. Designate one account for your direct deposit account, and the other account for your personal expenses.
When money comes in to your direct deposit account, transfer enough of it to your expense account to cover your expenses for the month. Once you've taken care of your monthly expenses, divide the rest between your savings account and your personal expense account. Once you've had some experience with this system, you might even want to open up a third checking account for personal use.
If you want to save for irregular expenses
Saving for monthly expenses is all well and good, but what if you want to budget for events that only occur once or twice a year, like pet & vet expenses, Christmas shopping or taking a vacation?
Once again, a separate savings account will be your friend. Figure out your spending goals for the event, and then divide that amount by 12. Put that amount on your monthly budget as a new expense, and you can save up for these big expenses.
It's worth pointing out that club accounts are an ideal savings account for these types of expenses. Each club account has a specific date when the balance and dividends are transferred into your checking or savings to help with certain events. They also have higher interest rates than standard savings accounts.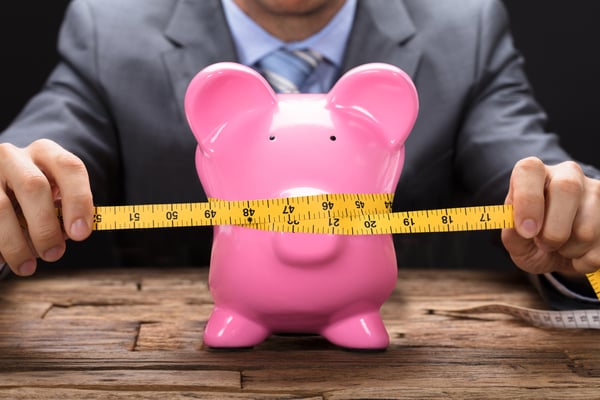 If you split expenses
Lots of people these days live with a roommate, or have a partner with whom they share expenses. If you're one of these people, you might wonder how to budget out the expenses you share. While this may seem difficult at first glance, the standard budget planning strategy will actually serve you just fine, with some minor tweaks.
First, split your fixed expenses and write them down the same way you would if you paid the full amount. After you've done that, move on to your variable expenses next. You can look back through your expenses for the last two or three months to get an idea of what you've been paying, and make sure to write down the largest amount so you don't go over budget.
If you have debt
If you've ever been in debt, you know how stressful it can be. If you're in debt and have leftover money at the end of each month, put it all towards paying your debt. The best way to do this is with the "debt snowball" method.
The debt snowball method of debt repayment is a simple concept—put all your extra cash toward paying off your smallest debt first. Once you're done with that, work towards the second smallest debt you have. Eventually, you'll work your way up to the largest debt you have, and you can also take any money you've saved from slowly paying down the other debts to pay off your debts even faster.
---
How Much Should I Spend on Each Category?
As you go over your expenses, you may start to wonder if you're overspending on each category. Did you need to spend so much on groceries? Are you spending too much money on clothes or entertainment?
The answer is that the "right" amount to spend on a category depends on several factors, including your salary, your location, your age, the size of your family and your financial goals. However, financial experts have come up with a few budgeting methods you can use to gauge your expenses.
One website, Well-Kept Wallet, offers this suggested breakdown of how much you should spend: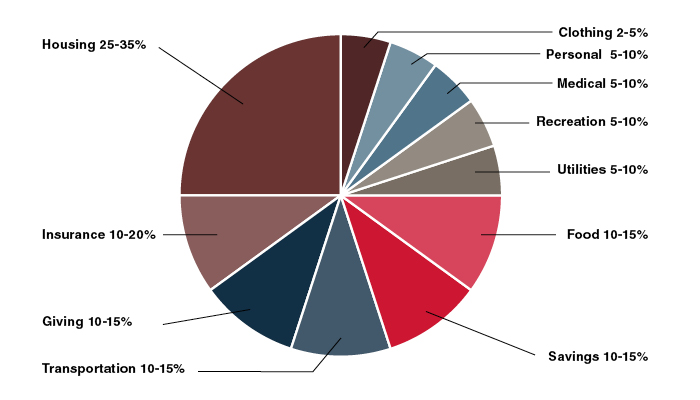 However, the article still points out this breakdown should be tailored to fit your family's lifestyle. There is no right or wrong, so long as you are not spending more money than you have and are covering all of your obligations, along with planning for savings.
The 50/30/20 Budget
Another budget plan that has become popular in the world of personal finance is the 50/30/20 budget. Senator Elizabeth Warren developed this budget in her book "All Your Worth: The Ultimate Money Plan," and it can scale to almost any salary, from someone with their first entry-level job to someone planning on putting on a down payment for a second home.
The largest category in the 50/30/20 budget is for needs, which should take 50% of your income. Your needs entail things like rent or mortgage payments, auto loan payments, health insurance, utilities and groceries.
The next category is for wants. You should spend about 30% of your budget here. Remember that "wants" in this case means "personal preferences," such as your cell phone plan, Internet bill, eating out, books and a gym membership.
The final category is savings, where you would put 20% of your income. This includes your emergency fund and investments like an IRA or 401(k).
---
Budgeting Aids
While the only thing you really need to create a budget is a pen, paper and access to the last two to three months of your bank statements, you can also find a lot of budgeting aids online that will make creating a budget easier.
First Alliance Credit Union, for instance, has a budgeting calculator that helps you figure out how much you're spending in each category. It also lets you know how much you have left over at the end of the month.
As a First Alliance Credit Union member, you also get free access to the My Money tool within your online banking account. This tool contains features that aggregate your accounts from multiple financial institutions, automatically creates and tracks your spending into a customized budget, and helps you set savings goals.
If you're not a First Alliance member, you can also select from several third-party platforms that are designed to help you create a budget and track your spending, such as: