Debt consolidation is a excellent tool to help you gain control over your debt. However, it may not be the perfect solution for everyone. There are several alternatives to debt consolidation loans that are often considered by those searching for a way to manage their debts. It's important that you understand the advantages and disadvantages to these other debt management options when compared to debt consolidation.
Debt Consolidation vs Bankruptcy
Debt consolidation and bankruptcy both have attractive advantages by offering a fresh financial start; but the disadvantages should be taken seriously.
If this is your first time struggling to manage your debts, a debt consolidation loan is probably the first option you should consider. This is a quick and easy option that won't significantly impact your credit score, or cause you to have to completely change your life.
However, if your credit is already significantly damaged, you have tried a variety of other options to gain control of your debt and nothing seems to help; then filing for bankruptcy may be the most realistic option for you.
Bankruptcy is the legal process that declares your debts as discharged and stops your creditors from being able to make further attempts to collect on them. There are several types of bankruptcy, but the most common forms are:
Chapter 7 Bankruptcy:

Often referred to as liquidation bankruptcy, this option requires you to sell off your assets and property to pay off your creditors. This is what most people refer to when they think of filing for bankruptcy.
Chapter 13 Bankruptcy:

Typically there is no liquidation involved with this option, but rather an aggressive payment plan is developed for you to pay off your creditors through a process known as debt restructuring.
In order to file for bankruptcy, you will want to hire a bankruptcy lawyer to guide you through what can be a very complex court process. During the bankruptcy proceedings, you will be appointed a trustee who will handle your case and act as a moderator between you and your creditors. The entire filing process can take between three to six months depending on your situation, and there are many important deadlines and steps you will be required to take during that time.
Pros of Bankruptcy
Regardless of if you are considering filing Chapter 7 or Chapter 13 for bankruptcy, there are some key advantages to consider:
Gives you a clean starting point to get your finances back on track
Stops your creditors from

contacting you for payment
Easier to explain to future lenders than continued missed and late payments
Provides relief from unmanageable levels of debts
Cons of Bankruptcy
While the perks of bankruptcy are compelling, it's important to keep in mind that there are some serious disadvantages too:
Tax debts often cannot be discharged
Student loan debt cannot be discharged

Negatively impacts your

credit score and the effects last

for up to 10 years
Required to close your credit card accounts
Name and financial status will be made public record
Lose your possessions and current lifestyle
Debt Consolidation vs Debt Management
A debt management plan (DMP) is a payment plan set up for you by a credit counseling agency that helps you repay your debts by negotiating with creditors. Often time they are able to reduce or waive fees, finance charges, or decrease interest rates to lower your monthly obligations to ensure repayment. Debt management plans typically include a monthly service charge.
Debt management plans and debt consolidation loans offer similar advantages, so it really comes down to which option is going to reduce your monthly payments to the most affordable level. Both options offer similar benefits:
Make one payment to one place
Lowers monthly payments
Lowers interest rates
Faster time to pay off debt
Improvements to your credit score
Stops collection calls
To determine if a debt management plan could effectively help you gain control over your financial situation there are several factors to take into consideration:
Look at your

debt-to-income ratio

(DTI). If your

DTI is above 20%, excluding your mortgage, then this is a sign that your debt level is too high and a debt management plan is something you may want to seriously consider.
If your

credit score is below 620, then a debt management plan may be your best option. This is because many lenders (not all) will not extend credit to those with a lower credit score, so you may not qualify for a

consolidation loan or balance transfer.
Debt management plans are also most helpful if you have

multiple debts from multiple different creditors

to make payments to every month. If you have a smaller number of creditors or have multiple loans with a single financial institution, you may be better off working directly with the creditors yourself to avoid the fees associated with a debt management program.
If you are

not seriously behind on your payments

a debt management plan can be useful. However, if most or all of your debts are in third-party collections, then you may need to look more closely into

bankruptcy

or possibly debt settlement.
The criteria listed above for determining if a debt management plan is best for your situation is only a rule of thumb and not a hard guideline. Make sure you fully understand what the specific credit counseling agency you choose to work with is offering you and at what cost. At the end of the day, whether you choose debt consolidation or debt management, you are still paying off your debts over a period of time, so make sure you can afford to do so.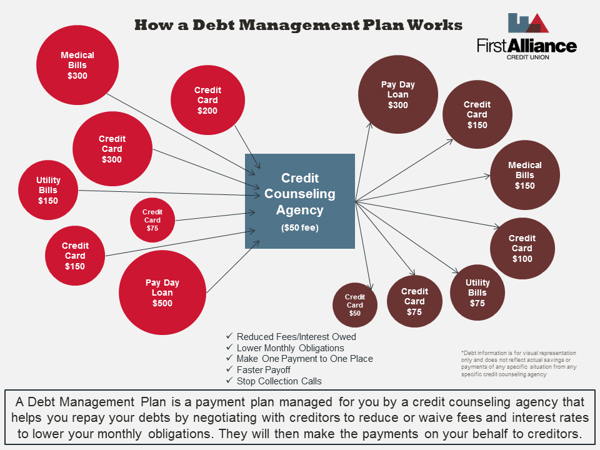 Debt Consolidation vs Balance Transfers
Balance transfers are another way you can consolidate credit card debt, but instead of a loan, you are using another credit card to pay off your existing balances. With a balance transfer program, you are using a lower interest rate credit card to pay off higher interest rate credit cards.
Balance transfers often are most helpful when you are paying on several high interest rate cards and can qualify for a lower interest rate credit card to save money on your monthly payment, though you can selectively transfer single balances.

Transfers are also more beneficial if you aren't going to continue to add to your balances and you want to only have one credit card payment each month.
Balance transfers may not be helpful if you:
end up paying a higher rate after an introductory period than you're paying now
plan to continue using your other high interest rate credit cards
want to consolidate more than just credit card debts into your payment
still cannot afford to make your monthly payment after transferring balances
A debt consolidation loan has many of the same benefits of a balance transfer, with the added advantage of having a definite date for your debt to be paid-off. Debt consolidation loans can also help with loans outside of credit card balances, like auto loans or medical debt.
A debt consolidation loan may not be helpful if you:
cannot get a lower interest rate than what you already have
are close to paying off your debts
only have one or two small debts
If you are looking for options to make managing your credit card debt easier, either a debt consolidation loan or balance transfers can be helpful solutions.
Debt Consolidation vs Debt Forgiveness Programs
A debt forgiveness plan, also referred to as debt settlement, is when your creditors agree to cancel some, or all, of your debts owed. This form of debt management can be used with as few as one creditor or multiple, so long as you owe at least $10,000. Additionally, debt forgiveness is typically only an option for those who are at least six months or more behind on unsecured debt payments, like credit cards. Depending on the lenders you owe money to and how much you owe, this process can take up to three years to fully resolve. During the debt settlement process you are typically advised by the debt settlement agency you are working with to stop making payments on your debts, as this adds pressure on your creditors to negotiate with the debt settlement agency. However, doing so will further negatively impact your credit score.
The main advantage of debt forgiveness is that you ultimately pay less money than you owe, so you feel like you are saving money. This is really enticing when you're struggling to pay off large amounts of debt. In reality, the cons of debt forgiveness typically far outweigh the potential savings. However, if your credit score is already below the 550 mark and you have the money to pay off the newly negotiated balance as a lump sum, debt forgiveness could be a reasonable solution to your debt problems.
In most cases, the advantages of debt consolidation far overshadow those of debt forgiveness. While debt consolidation may not be the perfect option for everyone, debt forgiveness is rarely an appropriate solution to your debt issues. Debt forgiveness can seem like a great option in theory, but in practice it is often full of more struggles long term, the least of which is a destroyed credit score.
The debt forgiveness industry is also wrought with scams and is poorly regulated. Debt consolidation on the other hand, is a common type of loan that is relatively easy to obtain from reliable financial institutions.
Debt Consolidation vs Refinancing
Debt consolidation is actually a form of refinancing. The major difference between refinancing and debt consolidation is the number of loans you are renegotiating terms on. With debt consolidation you are refinancing multiple debts into one single loan, so you are only making one loan payment instead of multiple. Whereas when someone refers to refinancing, they are typically referring to reworking one single loan. Additionally, with a debt consolidation loan you are able to payoff other unsecured debts such as medical debts or past due utility bills. You cannot do this with typical refinancing.
The purpose of refinancing your debt is to lower your monthly payments or pay off your debts faster. This is usually accomplished through lowering the interest rate you are paying on your debt. You will usually qualify for better interest rates when your credit score increases or overall interest rates have dropped. Refinancing your debt is a great option to consider when trying to gain control of your debt by making your payments more affordable. It will be easiest for you to refinance if you are current on your existing payments.
If you only have one or two debts that you are looking to lower your payments on, then refinancing those debts may make more sense than a consolidation loan. However, if you have multiple unsecured debts that have high interest rates it may be better to look into debt consolidation, especially if you are struggling to make on-time payments.
---
Of course, before you make any final decisions it is important to consult a trusted financial institution. They can help you fully evaluate your financial situation and give you some guidance as to which process will be most beneficial to you and your situation.