Credit scores have a vast impact on people's financial lives. Your credit score plays a factor in the type of car or house you can afford and how much your payments will be. It can even affect your ability to rent an apartment or to be hired for certain jobs. With this much at stake, understanding how credit scores work is very important. This credit score guide will help you learn everything you need to know to understand credit scores and take control of your financial future.
Credit Report vs Credit Score
When you apply for a vehicle loan, mortgage, or other type of financing, the lender will review your credit report before making a decision to borrow you the funds you're looking for. Based on the information on your credit report you will be given what's known as a credit score.
What Is a Credit Report?
Your credit report is a complete record of your debt accounts and how well you've managed them, including whether you've consistently paid on time every month.
Your credit report includes your personal information such as your name and birthday, your current and previous addresses, and your current or last known employer. This information doesn't necessarily impact any loan approvals, but creditors will use it to help confirm your identity.
Credit reports also list out all of your revolving credit accounts, like credit cards, and installment loans, such as personal loans, auto loans, or mortgage. In some cases your medical bills and utility bills can appear on your credit report if they are in collections. Public record entries like a foreclosure or repossession will also appear on your credit report. They also include a list of any hard inquiries into your credit history within the last two years.
What is a hard credit inquiry?
When a lender looks at your credit score they are completing what is known as a hard credit inquiry. A hard credit inquiry allows the lender to look at your activity to date and requires your permission to pull this information. A hard credit inquiry will leave a mark on your credit report, but the effect is generally negligible, however too many in a short period of time can negatively affect your credit score more significantly.
A hard inquiry looks much closer at your various trade lines and past performance than a soft credit inquiry will, meaning that your credit score will not always the same even if pulled from the same credit bureau. A lender will only complete a hard credit inquiry when you are applying for a new trade line, such as an auto loan, mortgage, credit card, etc.
What is a soft credit inquiry?
A soft credit inquiry or "pull" of your credit looks at your past performance, it is not necessarily indicative of what you did today. It can be up to about 30 days behind depending upon the credit bureau providing the credit score. Soft credit pulls do not "ding" your credit score like it does when a lender pulls your credit through a hard inquiry.
Your permission is not required to access your credit information via a soft credit pull. When you check your credit score using a free credit score tool they are using a soft credit inquiry to review your credit report. Soft credit pulls are also typically used by companies to send you pre-approval offers in the mail.
So, How Does Your Credit Score Fit Into This?
It can be difficult and time-consuming for a lender to analyze your entire credit report to make a decision about you. Your credit score is essentially a cumulative "grade" of the details on your credit report. So your credit score becomes a quick indicator of your risk level, or the likelihood that you'll default on a debt obligation.
A good credit score means that you will most likely be offered a lower interest rate on a loan. A bad credit score will most likely mean you'll end up paying a higher interest rate on your loan. Or if it is a really poor credit score you may need to work on improving your credit score before you can be approved for financing.
---
How Do I Know if My Credit Score is Good or Bad?

Credit scores typically range from 300 – 850. The higher your credit score the better. Your credit score indicates how you've managed your debts overtime, it's a numerical reflection for your financial life. The chart below will give you a more detailed look at each of the credit score ranges. Let's take a closer look at each of these credit score ranges and what exactly they indicate to your lender:
Scores under 550:

This is far below the average score of U.S. consumers and demonstrates to lenders that you may be a risky borrower. Getting approved for a loan may take a little longer than those with higher credit scores.
Scores between 550 – 649:

Still b

elow the average score of U.S. consumers but many lenders will still approve a loan with this score. You may have higher interest rates or require a co-signer.
Scores between 650 – 699:

This is average range of scores of U.S. consumers and most lenders consider this a good score. However, if you are at the lower end of this range you may still have slightly higher interest rates or require a co-signer on loans.
Scores between 700 – 750:

Above the average score of U.S. consumers and demonstrates to lenders that you are a dependable borrower. It is likely that there will be no issue for you to obtain a reasonable interest rate on a loan.
Scores above 750:

Well above the average score of U.S. consumers. You should not have any problem obtaining a loan with this credit score. You are considered a highly dependable, low risk borrower.
---
How Is A Credit Score Determined?
Your credit score is determined based on five key factors from your credit report: your payment history, amounts owed, length of credit history, new credit, and types of credit. The chart below shows the weight of each category on your credit score as a percentage. You'll see payment history is the largest factor considered at 35%.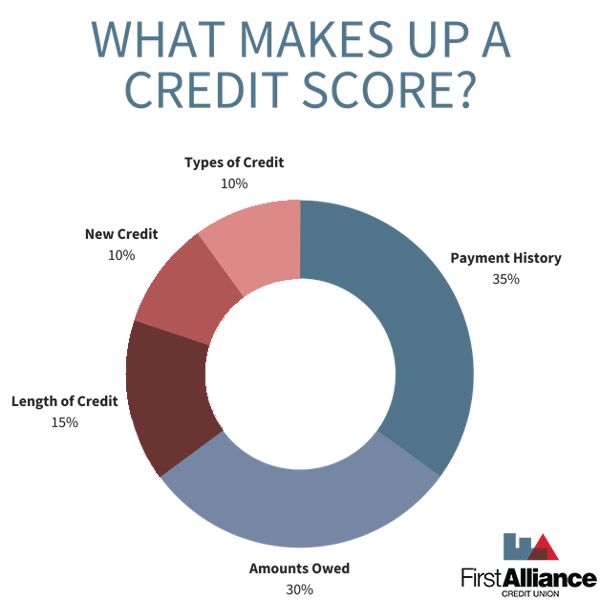 Let's take a closer look at each of these major factors:
Payment History: This is the largest factor in determining your credit score. This reflects your track record of repaying debts and even includes information from public records, such as bankruptcies, foreclosures and liens, which will all negatively affect your score. If you are consistently late on your loan payments, even if only a few days late here and there, your credit score will suffer. Pro Tip: Pay all of your payments on time every month to improve in this category.
Amounts Owed: This is also often referred to as your credit utilization. This category is a measure of the amount you owe on existing credit, compared with your borrowing limits. For example, if you owe $1,500 on credit cards, but you have $10,000 in available credit card limits your utilization will be lower than if you owed the same amount but only had $3,000 in available limits.

Pro Tip:

To help improve this category, keep your balances low and don't max out your credit cards.
Length of Credit History: Generally, the older your credit accounts, the better your score is likely to be. But that doesn't mean people who haven't had a credit history for very long can't still have higher credit scores, the minimum amount of credit history you need is only six months. If you're strong in the other categories this factor will not significantly impact your score.

Pro Tip: To improve in this category, don't close credit accounts if you don't have to, the older your accounts the better your credit score.
Types of Credit in Use:

This credit category takes into account the variety of credit accounts you have, including credit cards, installment loans, and

mortgage loans

. Your credit score can increase if you have a good payment history with a combination of credit cards and installment loans. However, too many of one type of credit account could negatively impact your credit score.

Pro Tip: Make sure to have a variety of different types of credit accounts to increase your score in this category.
New Credit: This category takes into account how many of your credit accounts were just recently opened, and how many credit hard inquiries have been made in a short period of time. This is important to lenders because research shows that when people open several accounts in rapid succession, they're at greater risk of defaulting on their payments. Pro Tip: To improve in this category only open new credit when you actually need it and avoid applying for credit accounts with too many financial institutions at once.
---
---
How To Check Your Credit Score
Many people think if you check your credit reports from the three major credit bureaus, you'll see credit scores as well. But that's not the case: credit reports from the three major credit bureaus do not usually contain credit scores.
So how do you check your credit score? Here are a few ways:
Check your credit card, financial institution, or loan statement:

Many companies have started providing credit scores on the monthly financial statements for free.

Purchase credit scores directly

from one of the three major credit bureaus or other trusted provider, like FICO, this can cost up to $20.

Use a credit score service or free credit scoring site.

Some sites like Credit Karma,

Discover, or even your local credit union

provide a free credit score to users. Others may provide credit scores to credit monitoring customers paying a monthly subscription fee.
In addition to checking your credit scores, it's a good idea to regularly check your credit reports to ensure that the information is accurate and complete.
You can receive a free copy of your credit report from each of the three major credit bureaus at least once every 12 months by visiting www.annualcreditreport.com.
It's smart to request a credit report from each of the three credit reporting agencies and to review them carefully, as each one may contain inconsistent information or inaccuracies. If you find information you believe is inaccurate or incomplete, contact the lender or creditor. You can also file a dispute with the credit bureau that provided the report. We will cover more details about this process later.